Malaysia's capital and largest city has much to offer visitors, regardless of their interests. A cosmopolitan metropolis with a significant religious influence, Kuala Lumpur is filled with high-end shopping opportunities and plenty of exciting things to do and places to explore. For many people, it's a starting point for exploring Malaysia.
1. Petronas Twin Towers
Kuala Lumpur's most recognizable landmark is its twin towers, built of reinforced concrete, steel, and glass. Once the tallest towers in the world, the twin skyscrapers remain the tallest twin buildings in the world. At 88 floors tall, the towers are not only Kuala Lumpur's most visible structure, but also a beautiful mix of postmodern style and Islamic art details.
The towers are connected by a sky bridge on the 41st and 42nd floors. While the sky bridge is a major tourist attraction, the main reason for its existence isn't the spectacular views you can get from it–instead, the bridge provides structural support to the towers as they sway during high-wind days, as well as a fire escape route if one of the towers ever has an emergency and needs to be evacuated.
Although most of the floors on the towers are privately rented, the lower floors house the Suria KLCC, an upscale shopping center with over 300 shops, as well as an art gallery, a science center, the Philharmonic Hall, and other attractions. The towers are particularly striking at night, when they are shining bright against the ever-changing urban landscape.
2. KLCC Park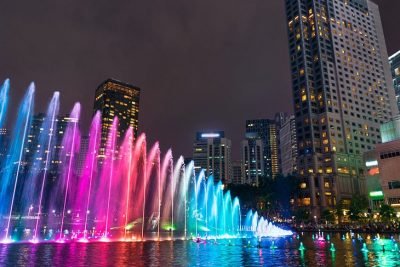 KLCC Park, located at the feet of the Petronas Twin Towers, is Kuala Lumpur's largest urban park, a 50-acre sanc
The park was designed to blend with its surroundings by combining man-made structures, such as sculptures and fountains, with over 2,000 different species of palms and indigenous flora. The trees here were selected through a complex system to ensure they attract both local and migratory birds, promote biodiversity, and provide a wide range of stunning colors and shapes to the design of the park.
KLCC's main attraction is Lake Symphony, a massive lake with a 43-meter bridge cutting across it and a number of fountains, including one that can shoot water 180 meters up into the sky and offers light and music shows twice a day. The fountain is particularly impressive at night, when you can truly appreciate the changing colors against the background of the illuminated Petronas Towers.
The park also offers a 1.3-kilometer-long rubberized jogging path, a wading pool, a two-acre children's playground, and plenty of photo opportunities among the landscaped trails that crisscross the park.
3. Kuala Lumpur Bird Park
A spectacular tropical aviary covering 20.9 acres, the Kuala Lumpur Bird Park is not only one of the world's largest covered bird parks, but also an important research center for scientists studying the behavioral patterns of certain species that are difficult to observe in the wild. Most of the over 2,000 birds here are local species, although about 10 percent were imported from as far away as Tanzania and Europe.
The park is divided into four zones, with Zone 4 being one of the most popular because of its walk-in parrot enclosure, its flightless bird exhibit (which include the deadly Cassowary), a feeding station that allows visitors to come in direct contact with some of the birds, and a 30-foot high waterfall.
The park also houses an amphitheater for 350 people that offers bird shows and an education area with presentations to teach guests about birds, endangered species, and more.
Taken from: https://www.planetware.com/malaysia/top-rated-tourist-attractions-in-kuala-lumpur-mal-1-2.htm